Glamping Tent Hire
We at The Luxury Tent Company are delighted to offer a range of stunning boutique bell glamping tents.
If you are seeking a little refuge and relaxation glamping in one of our luxurious tents will satisfy anyone without compromising life's little luxuries.
Our beautiful tents offer an amazing setting to any event whether accommodating our standard package or a luxurious suite.
Bell Tent Packages
Our spectacular Bell Tents create a magnificent setting to your event. Offering yourself and your guests luxurious experience in a location of your choice.
We can provide a unique tailored package to reflect the nature of your event.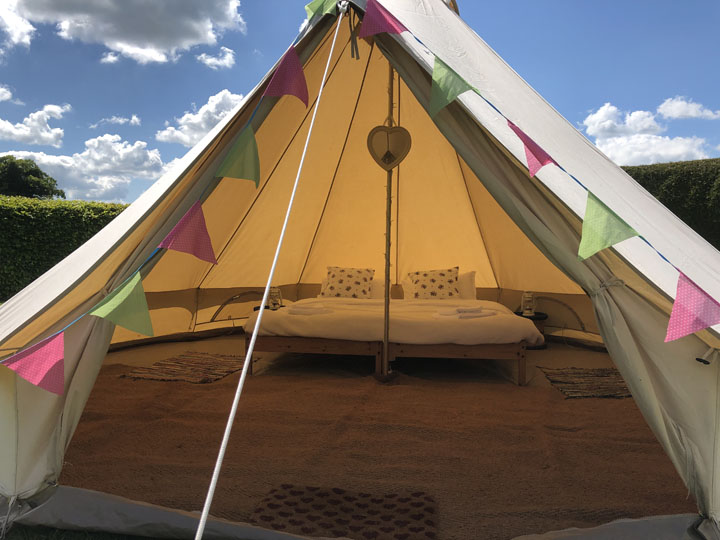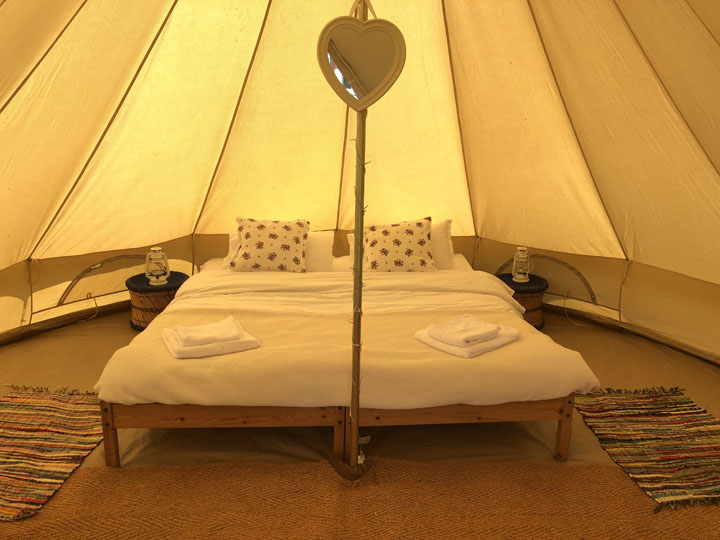 Our raised wooden bed frames can be added to any of our 5m bell tent packages (full details under 'Optional Extras')
The Bridal Bell Suite
A luxurious proper double bed. Cosy snug bed linen and romantic beautiful gestures to make a welcoming and relaxed room for the bride and groom.
The delectable luxury Bridal Bell tent offers cosy accommodation for two people. This sumptuous package includes one 5m canvas bell tent.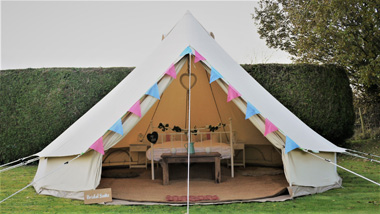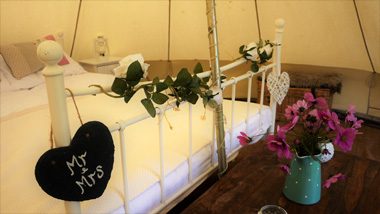 Prices from £310 hire per bell tent
Included in the Bridal Bell Suite +
The Luxury Gold Bell
Desirable Luxury Gold Bell tent offers room to relax and unwind for you or your guests after a day of celebrating your special occasion. This package includes one 4m or 5m canvas tent for two people and includes a double bed and bedding. (The double can be substituted for 2 single beds and bedding at an extra cost of £25.00). This package can also accommodate additional single beds for a family.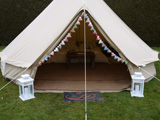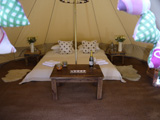 Prices from £240 for one 4m tent
Prices from £260 for one 5m tent
Included in the Luxury Gold Bell package +
Optional Extras +
The Silver Bell
A reasonably rated classic package for two people, can accommodate up to 6 guests in a 5m tent, great to share.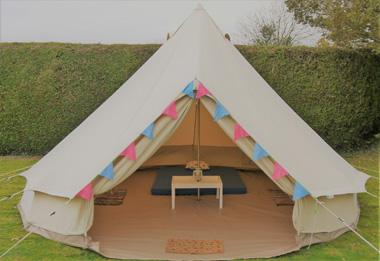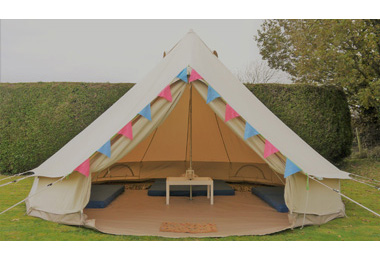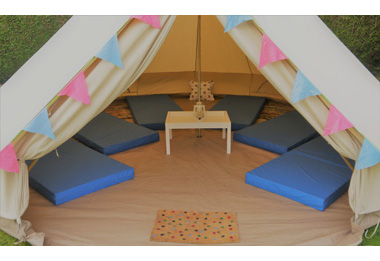 Prices from £155 for one 4m tent
Proces from £175 for one 5m tent
Included in the Silver Bell Suite package +
Optional Extras +
The Bare Bell
The Bare Essential tent package includes one 4m or 5m canvas bell tent with zipped in ground sheet constructed by The Luxury Tent Company.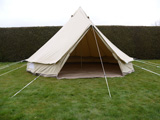 Prices from £110 for one 4m bare bell tent
Prices from £130 for one 5m bare bell tent
Optional Extras +
Extra Information
Delivery charges and set up costs may apply depending on the distance from SN16 9EW. This will be highlighted on the initial quotation.
Design and styles may vary in each individual Bell Tent.
All 4 metre and 5 metre tents are subject to availability.
Price includes up to 2 nights hire – longer stays beyond two nights are charged at £30 per night.
Electric supply
The Luxury Tent Co specialise in supplying electric to one or multiple tents. So if you require power for hairdryers, mobile phone chargers and electric lights please contact us for further information or a quotation.
Frequently Asked Questions
1. How big are the Bell tents? +
2. Are the Bell tents waterproof? +
3. How many people can sleep in a 5 metre Bell tent? +
4. Do tents have power and lighting? +
5. What bedding is supplied with the Bell tent? +
6. How to book a Bell tent? +
7. How to pay? +
8. Cancellation Policy +
9. What are your Terms and Conditions? +
Call: 01666 575 470 Email: enquiries@theluxurytentcompany.co.uk

Malmesbury Marquees is a progressive marquee hire and events contractor based near Malmesbury in North Wiltshire covering a wide area including Wiltshire, Gloucestershire, Oxfordshire and Somerset constructing well designed marquee structures for weddings, parties and corporate events. www.malmesburymarquees.co.uk